Springfield's GIS system is available online; it is a great way to find out information about various buildings in the city. However, I have come to find that the dates in the system are not always accurate.
I purchased this picture on eBay a couple of months ago, the photographer is listed as W.O. Greene, Springfield Mass.: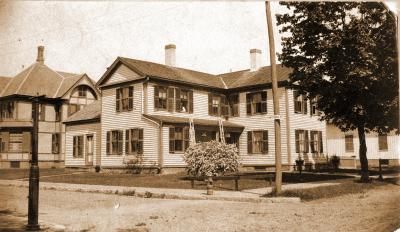 348 Hancock St.
The back says "Mama & Papa' Littlefield's first home after being married in 1889. Hancock St. corner Hawthorne. Papa in the window".
When I checked the city's GIS system, the structure on that corner is listed as being built in 1905 -- quite a bit later than 1889. But when I looked at the footprint of the house, it closely matches the footprint from the photo.
I checked the assessor's website, luckily they had a photo and it was from the very same angle:
The house is very clearly the same in the old photo.
Some slack has to be cut for the city though; due to the city hall fire of 1905, the building department records from that period were lost. However, this is a rare case where the assessor's website is more accurate than the building department -- the assessor lists the house as being built in 1880, which seems accurate given the text on the photo.
It's too bad that the owner of this house is not local (they live in Lawrence). I suspect if they lived here they might have appreciated a copy of this rare photo from the late 1800's.