I picked up a photo on eBay featuring the Armory Hill Young Men's Christian Association. On the reverse of the photo, it is written "1885 - Springfield College held first classes in Armory Hill YMCA".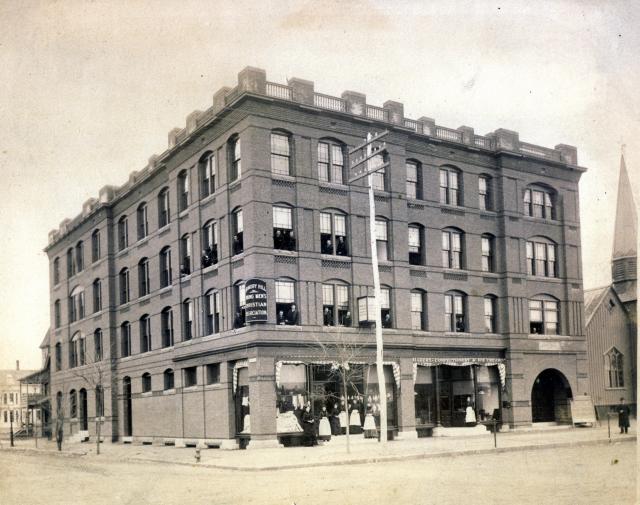 Armory Hill YMCA
Springfield College was originally known as the School for Christian Workers. According to Springfield College's website, it was founded in 1885 to "train Sunday school teachers and YMCA administrators", and "The School completed construction of its first building at the corner of Sherman and State Streets in Springfield. The Armory Hill YMCA also used the building for its operations." This must be a very early photo of that same building.
By 1896, the school had moved to its present location at Lake Massasoit (Watershops), and in the 1899 City Atlas, the block is listed as the Normal Bible School. By 1910, it was simply listed as owned by Reed Realty Trust.
What interests me more, however, is the church that is located right next to this building. It doesn't really make sense to me.
City directories used to list brief blurbs about each church in the city. Churches are very hard to research because churches frequently moved around, building new buildings as their congregations matured and expanded, and the older churches were then sold to other congregations. Churches also expanded by building chapels in other areas of he city.
The church pictured doesn't really make sense to me because I think it was probably built before the brick structure was built, however, I can find no record of a church on this lot in the 1870's-1880's.
Why do I think it was built first? A few reasons. First, the architecture of the church is a little too plain compared to the architecture of the brick structure. It seems unlikely they were built at the same time. Next, the church is simply too close to the brick structure. Finally, the 1899 city map shows the entire block, from Sherman to Catherine St., occupied by a brick structure. It also shows a "chapel" in the rear of the property -- perhaps this same church, moved.
The 1894 City Directory says, about the School for Christian Workers, "The building is on Armory Hill, corner of State and Sherman streets. It contains, as recently enlarged, besides the necessary recitation rooms, offices, and library rooms -- dormitories for 75 students, and a gymnasium (presumably where basketball was first played in 1891) fully equipped with modern apparatus, baths, etc."
Would it make sense to build a church extremely close to a much larger brick city block, and then either raze or move it less than 10 years later to expand the city block? That seems unlikely.
I checked various city directories from 1875 to 1895, and none listed either a church or chapel between Sherman and Catherine Streets.
So what is this mystery Church/Chapel?
Update: I have attached some more photos of this building, after the chapel had been removed and it had been expanded. I believe they are from the collection of Jack Hess, but I found them on this amazing photo website.