In order to get my daughter interested in history I try to make the past mysterious and exciting for her. One of my favorite teasers is about the "Lost Fountain of Forest Park".
The fountain still exists, although it's deteriorated and overgrown with brush. It's formally known as the Bowles Fountain. Beyond that, I don't know much else about it. Here's a picture of it from a publication called "Picturesque Springfield, Mass.", published in 1895: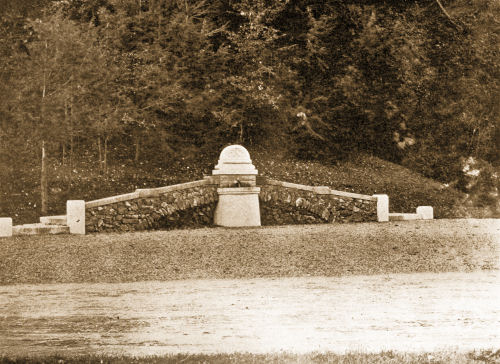 More below the break.
Here are directions to the fountain:
Enter Forest Park via Sumner Ave. Proceed down the road that leads by the baseball diamonds. On your right side, about halfway to the parking lots, you will see a road that goes down the hill. There are two cast-iron fence posts bordering it. Proceed down this road to the bottom and you can't miss it.
I don't understand why such a beautiful monument was built in such an isolated place. I suppose that the park has changed in many ways over 100+ years. I think the fountain was originally on what was known as Meadow Road. I tried walking this road a few years ago, but wound up in a marsh.
I'd love to hear stories about this fountain from others.