Springfield Mass., The "Best" Series/American Scenery
The front of the stereoview lists "Springfield, Mass." on the right side, and either The "Best" Series or "American Scenery" on left side. I have two copies of the same photo, one is listed as "Best" and the other as "American Scenery".
Many of these cards have a blank reverse, but recently I found some with an advertisement for "Ramsdell's 99 Cent Store" in North Adams Mass. The reverse also listed "Miller & Best, 67 High St., Boston",m which I presume is the manufacturer, and why this is called the "Best" series.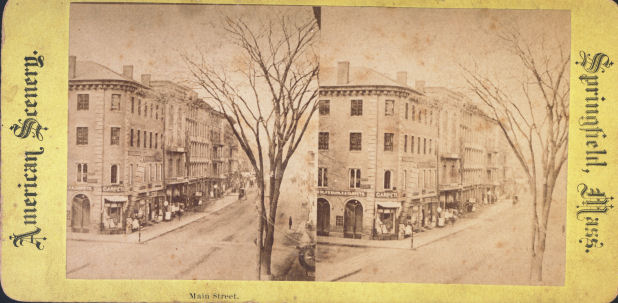 The series probably dates from around 1874, due to the card referring to the "new high school".
The checklist is derived from the photos in my collection.
Main Street [northwest corner of Court]
Central Street [row houses]
Mattoon Street
Third National Bank Block
City and River from Store's [should be Storr's] Lot
Congregational Church [interior]
[South] Congregational Church [exterior]
New High School Building
Springfield Cemetery
This list is from the New York Public Library digital collection:
The Centennial Elm
U.S. Water Shops #1 (factory)
U.S. Water Shops #2 (water raceway)
This list is from eBay:
Park Street Church [West Springfield]
Entrance to the U.S. Armory
View from the Arsenal
---