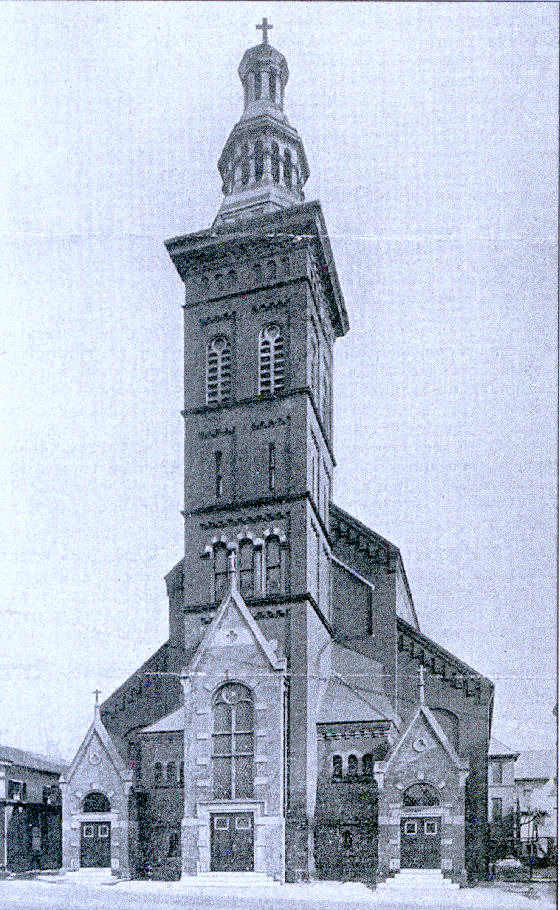 News has broken today that St. Joseph's Roman Catholic Church, situated on the corner of Howard and East Columbus Avenue, has been sold by the Springfield Diocese for $1.2 million to the Colvest Group of Windsor, CT.
Given Colvest's history of developing parcels into CVS and Starbucks, I'm not very optimistic that their plan includes renovating and preserving this church. Odds are that it will be demolished, yet another church steeple gone from the downtown horizon.
The book King's Handbook of Springfield, published in 1884, contains this history of the church:
St. Joseph's Church was organized for French Roman Catholics in March, 1873, with a membership of 240 families, under the direction of the present pastor, Rev. L. G. Gagnier. Two months later, May 5, the society purchased a building-lot and a house on Howard Street, near Water; and July 7 the foundations of the church were laid. The basement was roofed in, and occupied for divine worship from November, 1873, until July, 1877, when the erection of the whole structure was successfully completed. It is built of brick, in a simple but imposing style of architecture. The dimensions of the building are 144 feet by 65 feet, including the tower.

The basement is 14 feet high, and the side walls of the main building are 21 feet high, with a clear-story that gives a central aisle of 52 feet from floor to ceiling. The tower and steeple are 172 feet high. The net cost of the property as it now stands is about $60,000. The membership is over 400 families. A parochial school, under the direction of the Sisters of St. Joseph, is soon to be in operation.
While adaptive reuse of churches is difficult, it is not impossible. The big problem seems to be finding a developer that wants to voluntarily tackle such a project instead of being forced into it by property restrictions or market conditions (such as high demand for the space).
There is no legal way to stop the demolition of this 133-year old church; it does not sit in a local historic district so it is outside the control of the Springfield Historical Commission. Springfield does not have a Demolition Delay Bylaw which could hold this project up. The state does not hold any preservation restrictions on the property (unlike the one held on Old First Church). Although the church is listed on the National Register of Historic Places, that only gives it access to tax credits if the owner desires to pursue them, as well as protects it from governmental demolition. The land beneath the church is already zoned for business, so the city council has no say in this matter.
At this point, unless there is a significant public outcry, St. Joseph's church will fall to the wrecking ball.
This is not a problem unique to Springfield. Boston has seen dozens of churches close in the past few years. Holyoke just saw the demolition of Immaculate Conception church, a magnificent gothic structure that the Diocese decided was "too expensive to fix". Chicopee just saw the razing of the Chicopee Falls United Methodist Church, a structure built in 1842 - to accomodate a parking lot. Westfield recently lost Our Lady of the Blessed Sacrament Church to make way for the city's Great River Bridge Project.
Springfield's church closings have been more gradual, and often church buildings have been sold to other parishes and denominations. Correct me if I'm wrong, but I can't think of a Springfield church being razed in the past 20 years.
St. Joseph's is not the oldest church in Springfield, nor is it the most architecturally significant. Yet it is one piece of the puzzle which causes outsiders to marvel at the historic nature of our city. As each of these seemingly insignificant buildings disappear (as many have over just the past few years), our city loses more and more of its historical fabric, and becomes more and more like any other city with cookie-cutter developments lining our streets.
Can St. Joseph's be saved? I seriously doubt it, because in order to save a building, you must have a developer interested in saving it, and the developer that now owns this building does not seem to fall into that category. There is no "reuse fairy", feeling pity for a city that laments the loss of its architecture, transforming old buildings into whatever visions people can dream up.
So we will likely be forced to use yet another razing as yet another teaching moment, and try to figure out how to head the next potential demolition [Chestnut Middle School? Tech High School? Westinghouse?] off at the pass long before we get to this point in the process.