Miscellaneous
Submitted by Ralph Slate on Mon, 01/05/2009 - 00:42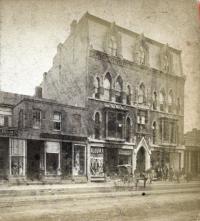 This is a stereoview entitled "Shaw's New Block". It has the mark of A.E. Alden, Photographer on the reverse.
Submitted by Ralph Slate on Sun, 07/29/2007 - 01:30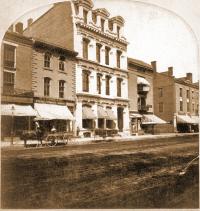 This is a view of the First National Bank building. It was situated on the block directly across from Court Square, between Sanford St. (now gone) and East Court St. The site is currently occupied by the Mass Mutual Center.
Here is another angle of the same block, from a different stereoview.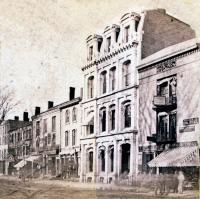 First National Bank block
Submitted by Ralph Slate on Sat, 07/28/2007 - 11:33
When I saw this unique stereoview for sale, I just had to buy it. It depicts the downtown Springfield block that used to house the Massachusetts Mutual Life Insurance Company. It isn't your typical stereoview because it shows this block right after it suffered a devastating fire.