If you collect real-photo postcards of Springfield, the line "Griswold & Steele, 37 John St., Springfield, Mass." should be very familiar to you. Of the dozens of photo postcards I've seen of our city, over 75% were produced by this company. I have over 65 different cards of theirs, and I know of at least that many more in the hands of other collectors.
But just who were Griswold & Steele? It's hard to know for sure, but I dug up some basic information on this prodigious duo.
Most of the postmarks on the Griswold & Steele cards are from around 1910, so I checked a city directory from that era. That directory gave me their full names: Warren S. Griswold & Henry A. Steele.
A little genealogical research on ancestry.com turned up Warren Sherman Griswold being born in East Granville, MA, in 1866. He died in 1938. Henry Steele is more difficult to trace because of his more common name, but I found an entry that suggests he was born in Springfield in the 1840's.
Warren Griswold appears in the 1897 Springfield city directory as a conductor for the Springfield Street Railway. He appears in a 1900 directory as working for the Webster P. Griswold & Company (his brother), manufacturers of an adjustable roofing bracket. This company was also located at 37 John St. Griswold was also listed as a commercial traveler in the early 1900's.
The first appearance of Griswold & Steele, photographers, was in a 1909 city directory. Henry Steele appears as a boarder at 37 John St. that same year. By 1912 though, Griswold & Steele was no longer listed as a company, and Warren Griswold moved to Malden MA around 1914-1915.
Henry Steele is listed as a photographer in city directories until 1919, at which point he no longer appears (he probably did not die; city directories usually noted deaths). He kept up the business for at least a little while after Griswold moved on, as shown on the back of this postcard:
So based on this research it seems as though Griswold & Steele were in business a total of just 3-4 years.
Ironically, the best information on how Griswold & Steele operated can be found on the back of a postcard that they produced for a customer:
"Dear Grace. I received your card. All OK. Our house which you see on the other side was taken by a photographer and we did not know when he took it. He then came around to see if we wanted some of the pictures. I asked him why he did not let us know so we could have arranged our windows different. See the porch chairs turned over. Your uncle and I are going to take a walk down to his cousin Darcy. We are all as well as usual. Alice took dinner last Sunday with us."
Where is John St.? Well, it barely exists today, across from the Greek Orthodox Church in Memorial Square. In this image, taken from the 1910 city atlas (image from Wardmaps.com, where you can purchase reprints of the atlas plates), W.A. Griswold's house is circled in Red.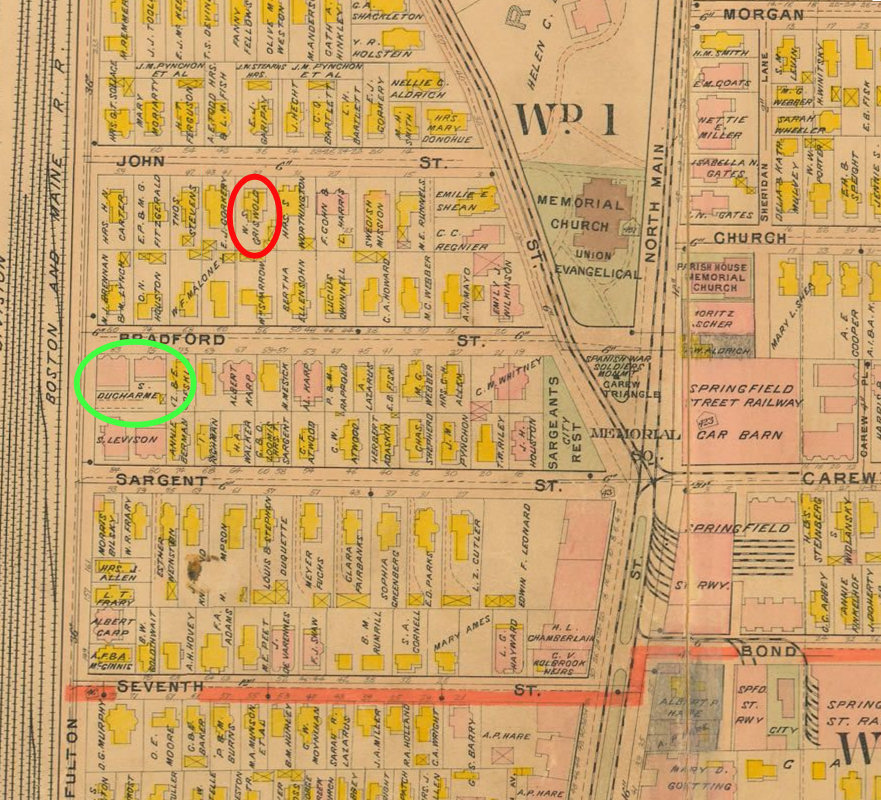 There were dozens of houses and apartment buildings in this neighborhood now lost to Urban Renewal. Griswold & Steele immortalized the Bradford/Hyacinth apartments, circled in Green: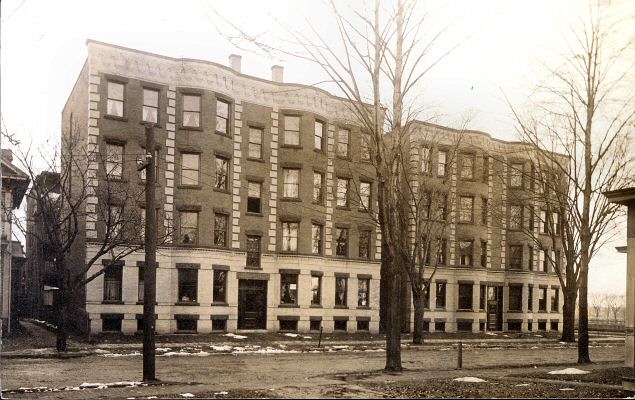 Although most of Griswold & Steele's postcards seem to be from Springfield, they also branched out to other area towns. I have seen their postcards from Wilbraham, Monson, Holyoke, Chicopee, Enfield, and Suffield. I'm sure that other towns were represented, but the most frustrating thing about these postcards is that they were never labeled. I have only been able to identify 10-20% of the postcards in my collection, the others just sit there, orphans.
Griswold & Steele probably photographed every building within a 10 mile radius of Springfield, so it's sad to think that that those images are mostly all lost. However, I'm sure that there are hundreds, if not thousands of their postcards surviving, just waiting to be found by collectors.